Celebrate Love with a Unique Personalized Keepsake
Make your 1st anniversary a truly unforgettable occasion with our exquisite Personalized Heart Shaped Acrylic Plaque. Crafted with precision and care, this stunning memento captures the essence of your special day, preserving it for a lifetime of cherished memories. With a customizable photo feature, this unique keepsake allows you to showcase a precious moment, frozen in time, making it the perfect gift to celebrate your love or to surprise a dear couple on their 1st anniversary.
At the heart of this remarkable plaque lies the power of personalization. We understand the importance of creating a lasting impression, which is why we provide you with the opportunity to tailor this plaque to your unique style and taste. Our advanced printing technology ensures sharp, detailed images that truly bring your photo to life, enhancing its emotional impact and making this heartfelt gift even more meaningful.
Exquisite Craftsmanship, Unparalleled Elegance
Crafted from premium acrylic, our Heart Shaped Plaque embodies both beauty and durability. Measuring at 4.9" x 4.9" and with a depth of 0.6", this compact yet eye-catching piece is designed to fit perfectly in any space, be it a cozy home or a professional office setting. The high-quality acrylic material not only enhances the clarity and vibrancy of the printed design but also ensures long-lasting durability, preserving your precious memories intact for years to come.
The intricate design and attention to detail set this plaque apart from ordinary gifts. Our skilled artisans meticulously carve each plaque to perfection, giving it a sleek and smooth finish that exudes elegance. The heart shape symbolizes love and affection, adding a touch of romance to this remarkable keepsake. Display it on a shelf, or desk, and let it serve as a constant reminder of the love and joy that brought you together on that special day.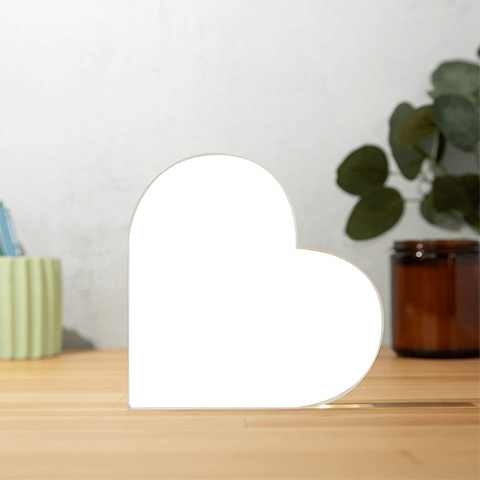 Your plaque will be made from high quality acrylic and will feature a professionally printed design. This present makes for a truly unique and sentimental gift that will be treasured for years to come!
Product specifications: 
Premium acrylic 
Size: 4.9" (124mm) x 4.9" (124mm)
Depth: 0.6" (15mm)
Sharp, detailed printed design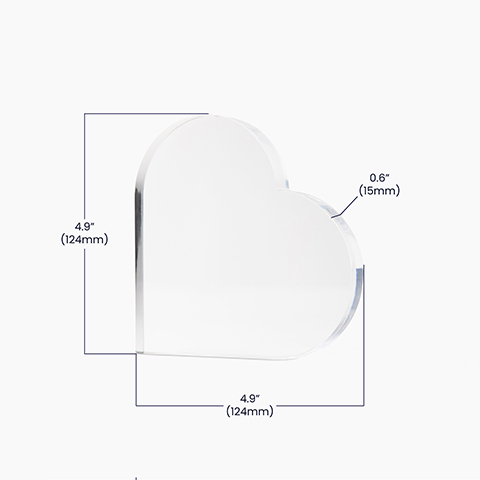 Each order is lovingly packaged and ready to be cherished for a lifetime!
See what people are saying
about us