Celebrate Your Champion Dad with a Personalized Photo Acrylic Plaque
Personalized Photo Acrylic Plaque - A Tribute to Your Wrestling Champion
Celebrate the incredible bond between you and your dad, who doubles as your wrestling champion, with our Personalized Photo Acrylic Plaque. This unique gift pays homage to the moments you've spent on the mats together, the victories you've celebrated side by side, and the unwavering support and guidance he provides. With a personalized message and a custom photo, this plaque captures the essence of your wrestling journey and honors your dad as not just a father, but also your ultimate champion.
A Lifelong Match with Your Wrestling Champion
"Dad, as a wrestler, I've learned that life is a constant match, but having you in my corner makes all the difference." These words reflect the profound impact your dad has had on your wrestling journey. From the countless hours rolling around on the mats to the shared triumphs, he has been there, not only as a supporter but also as your coach and mentor. Together, you've faced the challenges head-on, and his guidance has been the cornerstone of your success.
A Rock Both On and Off the Mat
Through the wins and losses, your dad has been your rock, providing unwavering support both on and off the mat. His dedication, encouragement, and belief in your abilities have fueled your determination and helped you overcome obstacles. With this personalized acrylic plaque, you can express your gratitude for his constant presence and acknowledge him as not just your dad, but also your champion.
A Symbol of Your Wrestling Journey Together
Personalize this acrylic plaque with your name and a custom photo, creating a lasting tribute to your wrestling journey with your dad. Every time he looks at the plaque, he will be reminded of the incredible moments you've shared, the victories you've achieved together, and the bond that only a wrestling duo can understand. It's a meaningful gift that captures the essence of your relationship and celebrates the irreplaceable role your dad plays in your life.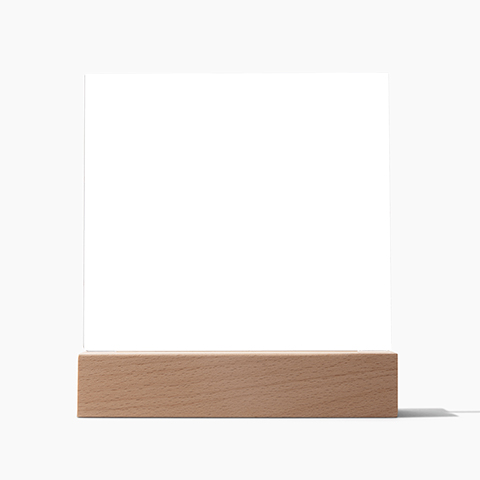 Your plaque will be made from high quality acrylic and will feature a professionally printed design. This present makes for a truly unique and sentimental gift that will be treasured for years to come!
Product specifications: 
Premium acrylic 
Size with wooden base: 6.5" (165mm) height x 6.5" (165mm) width
Acrylic Depth: 0.1" (5mm)
Wooden base: 1.2" (30mm) height x 6.5" (165mm) width x 1.8" (45mm) depth
(Optional) Wooden base with colorful built-in LED lights
Sharp, detailed printed design 
Each order is lovingly packaged and ready to be cherished for a lifetime!
See what people are saying
about us