Captivating Mom-To-Be Gift From Baby Bump
Cherish the Moment with a Personalized Acrylic Square Plaque
Every mother's journey to motherhood is special and unique, and this personalized acrylic square plaque captures that moment beautifully. The Acrylic Square Plaque for Mother's Day is a one-of-a-kind keepsake that perfectly captures the love and excitement felt during the pregnancy journey. The personalized ultrasound picture, combined with the custom message, makes it a cherished gift for any expecting mother. This plaque is designed to bring warmth and happiness to any room it is displayed in, making it a truly memorable addition to your home décor.
Premium Quality and Design
High-Quality Acrylic and Sleek Design for a Beautiful Display
The Acrylic Square Plaque is made from premium quality acrylic, which gives it a crystal-clear appearance that beautifully displays the personalized ultrasound picture. The sharp and detailed printed design ensures that the plaque will be a conversation starter in any room. The plaque comes with a sleek wooden base that complements the contemporary design and elevates the display. If you want to upgrade the presentation, you can choose the LED wooden base, which adds a colorful built-in LED light to the display.
A Meaningful and Sentimental Gift
Show Your Love and Appreciation with a Thoughtful Gift
There is no better way to show your love and appreciation for an expecting mother than with a thoughtful and sentimental gift like the Acrylic Square Plaque for Mother's Day. This personalized plaque is a unique and meaningful way to capture a special moment in the mother's journey and create a lasting memory. It's a gift that she will cherish for years to come and will always remind her of the love and excitement felt during her pregnancy. This gift is perfect for Mother's Day or any other special occasion.
Message:
Mommy
I may be small,
but I already know how much
You Love Me
I hear your voice and feel your warmth
as I wiggle and grow in your tummy, and
I can't wait to see your beautiful
face for the first time. When we finally
meet, I know your loving embrace will be 
the safest place in the world, where i'll
feel your heartbeat and hear your lullabies.
Happy Mother's Day (YOU CHOOSE THE EVENT OR HOLIDAY FROM DROP DOWN) OPTIONS: HAPPY BIRTHDAY, I LOVE YOU, HAPPY VALENTINE'S DAY, HAPPY MOTHER'S DAY
to the most amazing mom-to-be!
Love, Kisses, & Kicks (Customized Name).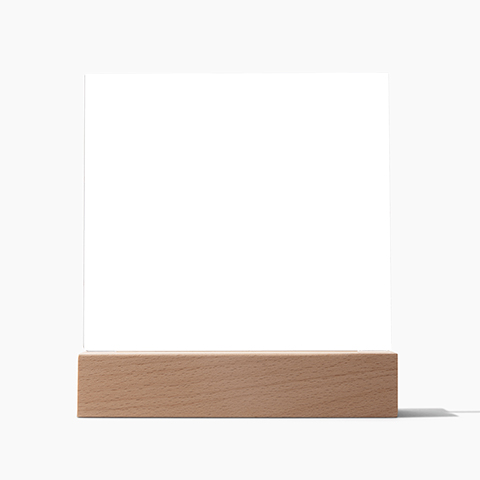 Your plaque will be made from high quality acrylic and will feature a professionally printed design. This present makes for a truly unique and sentimental gift that will be treasured for years to come!
Product specifications: 
Premium acrylic 
Size with wooden base: 6.5" (165mm) height x 6.5" (165mm) width
Acrylic Depth: 0.1" (5mm)
Wooden base: 1.2" (30mm) height x 6.5" (165mm) width x 1.8" (45mm) depth
(Optional) Wooden base with colorful built-in LED lights
Sharp, detailed printed design 
Each order is lovingly packaged and ready to be cherished for a lifetime!
See what people are saying
about us