Celebrate the arrival of your little prince with our stunning Acrylic Square Plaque! This exquisite personalized gift features a heartwarming message from your little one to you, capturing the love and joy of this special moment.
A Unique and Sentimental Keepsake
Crafted from premium crystal-clear acrylic, this stunning plaque will serve as a unique and sentimental keepsake for years to come. With its sleek and contemporary design, this plaque easily becomes the centerpiece of any room and will be a cherished addition to your home.
Perfect for Decorating the Nursery
Measuring 6.5 inches in height and width, this plaque is the perfect size for decorating your baby's nursery. Its sharp and detailed printed design, combined with the sleek wooden base, makes it an elegant addition to any space.
A Memorable and Heartwarming Gift
Looking for a memorable and heartwarming gift for a mom-to-be having a boy? Look no further than our Acrylic Square Plaque. With its personalized ultrasound picture and heartwarming message from your little one, this gift is sure to bring tears of joy to any mother's eyes.
Message:
Mommy
I may be small,
but I already know how much
You Love Me
I hear your voice and feel your warmth
as I wiggle and grow in your tummy, and
I can't wait to see your beautiful
face for the first time. When we finally
meet, I know your loving embrace will be 
the safest place in the world, where i'll
feel your heartbeat and hear your lullabies.
Happy Mother's Day (YOU CHOOSE THE EVENT OR HOLIDAY FROM DROP DOWN) OPTIONS: HAPPY BIRTHDAY, I LOVE YOU, HAPPY VALENTINE'S DAY, HAPPY MOTHER'S DAY
to the most amazing mom-to-be!
Love, Kisses, & Kicks (Customized Name).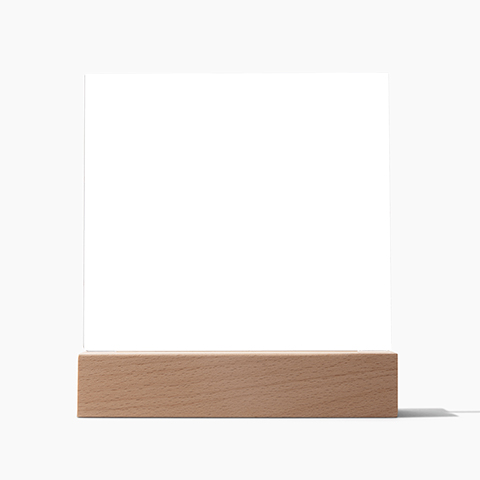 Your plaque will be made from high quality acrylic and will feature a professionally printed design. This present makes for a truly unique and sentimental gift that will be treasured for years to come!
Product specifications: 
Premium acrylic 
Size with wooden base: 6.5" (165mm) height x 6.5" (165mm) width
Acrylic Depth: 0.1" (5mm)
Wooden base: 1.2" (30mm) height x 6.5" (165mm) width x 1.8" (45mm) depth
(Optional) Wooden base with colorful built-in LED lights
Sharp, detailed printed design 
Each order is lovingly packaged and ready to be cherished for a lifetime!
See what people are saying
about us