Introducing our Forget Me Not Flower Personalized Acrylic Memorial Plaque, a beautiful and heartfelt way to honor the memory of a loved one. This exquisite plaque is made from premium acrylic and features a stunning printed design of Forget Me Not flowers. The crystal-clear acrylic and contemporary design make it the perfect centerpiece for any room, while the sleek wooden base adds an elegant touch. Upgrade to the LED wooden base for a truly memorable presentation.
This memorial plaque is a thoughtful miscarriage gift or remembrance gift for those who have experienced the loss of a child. You can personalize it with a cherished photo, a meaningful name or quote, and a significant date. It serves as a lasting tribute to your loved one and provides comfort and solace during difficult times.
The creation of this product was inspired by the idea of preserving memories and celebrating the lives of those we hold dear. Every detail has been carefully crafted, from the premium acrylic material to the sharp and detailed printed design. Our skilled artisans bring passion and artistry to the process, ensuring that each plaque is a unique and special piece.
This personalized acrylic memorial plaque is suitable for anyone who wishes to honor the memory of a loved one. It can be displayed in various settings, such as home decor, office spaces, or memorial areas. The elegant design and customizable features make it a meaningful gift for individuals or families who have experienced loss.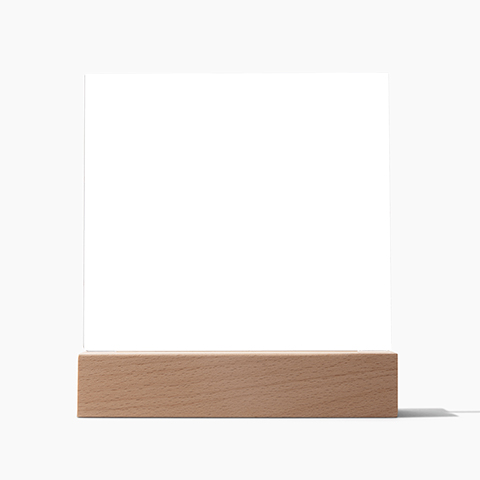 Your plaque will be made from high-quality acrylic and will feature a professionally printed design. This present makes for a truly unique and sentimental gift that will be treasured for years to come!
Product specifications: 
Premium acrylic 
Size with wooden base: 6.5" (165mm) height x 6.5" (165mm) width
Acrylic Depth: 0.1" (5mm)
Wooden base: 1.2" (30mm) height x 6.5" (165mm) width x 1.8" (45mm) depth
(Optional) Wooden base with colorful built-in LED lights
Sharp, detailed printed design 
Each order is lovingly packaged and ready to be cherished for a lifetime!
See what people are saying
about us