A Meaningful and Personalized Gift for Loved Ones
Introducing our God Says I Am Personalized Acrylic Plaque with Custom Photo & Name, the ultimate gift that combines modern technology with heartfelt sentiment. Show your loved ones how much they mean to you with a personalized acrylic plaque that will touch their hearts and make them feel truly special.
We understand the importance of customization when it comes to expressing your love and appreciation. That's why our Square Acrylic Plaque is designed to be personalized with a custom photo and name, creating a one-of-a-kind keepsake that will be cherished for a lifetime. Imagine the joy on their faces as they see their own photo and name beautifully displayed on crystal-clear premium acrylic.
A Thoughtful Expression of Love and Faith
Our personalized acrylic plaque is not just a decorative item; it's a meaningful symbol of love, faith, and encouragement. With its sharp and detailed printed design, featuring inspiring Christian Bible verses such as "I am enough," this plaque serves as a constant reminder of God's love and the strength we find in our faith.
Whether you're looking for a gift for your daughter, granddaughter, best friend, mother, sister, or any special person in your life, this plaque is the perfect choice. It's a thoughtful expression of your love and faith, a tangible way to remind them that they are loved, valued, and enough.
Stunning Design and Quality Craftsmanship
The Square Acrylic Plaque is not just an ordinary decoration; it's a captivating piece of art that instantly becomes the centerpiece of any room. The crystal-clear premium acrylic creates a sleek and modern look, allowing the design to shine through with exceptional clarity. It's a visual masterpiece that catches the eye and sparks conversations.
At Always Essential Gifts, we believe that every detail matters. That's why we've crafted our personalized acrylic plaque with the utmost care and precision. The sharp and detailed printed design ensures that every line and curve is faithfully reproduced, capturing the essence of the artwork and making it truly remarkable.
To complement the exquisite acrylic plaque, we've included a sleek wooden base. Not only does it provide a stable foundation for the plaque, but it also adds an extra touch of elegance. With its 1.2" height and 1.8" depth, the wooden base perfectly complements the 6.5" square dimensions of the plaque, creating a harmonious and balanced display.
Upgrade to a Mesmerizing Display
Take your personalized acrylic plaque to the next level with our LED wooden base upgrade. This optional feature adds a captivating and enchanting touch to your display, turning it into a mesmerizing work of art. The built-in colorful LED lights illuminate the plaque from below, creating a stunning visual effect that is sure to leave a lasting impression.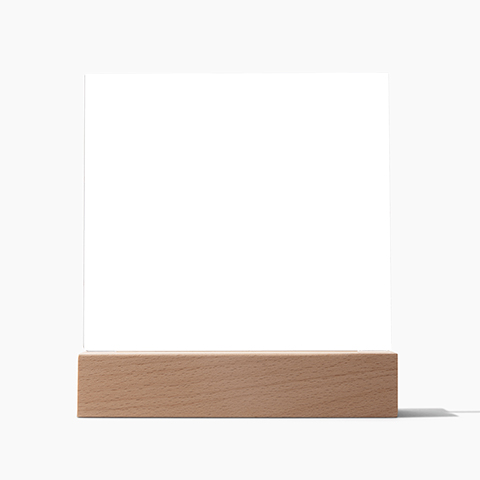 Product specifications: 
Premium acrylic 
Size with wooden base: 6.5" (165mm) height x 6.5" (165mm) width
Acrylic Depth: 0.1" (5mm)
Wooden base: 1.2" (30mm) height x 6.5" (165mm) width x 1.8" (45mm) depth
(Optional) Wooden base with colorful built-in LED lights
Sharp, detailed printed design 
Each order is lovingly packaged and ready to be cherished for a lifetime!
See what people are saying
about us