A Heartwarming Tribute to Daddy on His First Father's Day
Personalized Photo Acrylic Plaque - Celebrating the Love Between Father and Child
Capture the precious moments and express your heartfelt love with our Personalized Photo Acrylic Plaque. This special gift commemorates the bond between you and Daddy, even though you've only been together for a little while. The message card speaks of your growing affection, gratitude, and the love you have for him every day. Let this plaque be a beautiful reminder of your love as you celebrate Daddy's first Father's Day.
A Journey of Love with Daddy
"Daddy, we've been together for just a little while, but every day I say I LOVE YOU WITH A SMILE." These heartfelt words express the joy and love you feel for Daddy, even though you may not yet be able to fully express it. It's a reminder of the precious moments you've shared and the bond that grows stronger with each passing day.
A Love That Transcends Words
As you grow, you may not yet be able to thank Daddy for all that he does, but he should know that you really, Really love him. Your love transcends words, and this personalized acrylic plaque serves as a tangible symbol of the love that fills your little heart. Every glance at the custom photo and the heartfelt message will remind Daddy of the depth of your affection.
A Precious First Father's Day Gift
Celebrate Daddy's first Father's Day with a gift as special as the love between you. This Personalized Photo Acrylic Plaque is the perfect way to express your love and gratitude. By personalizing it with your name and a custom photo, you create a unique keepsake that will bring a smile to Daddy's face every time he sees it. It's a cherished memento that commemorates the beginning of your beautiful journey together.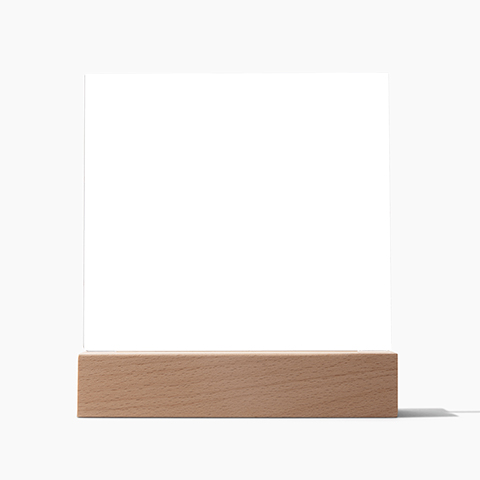 Your plaque will be made from high quality acrylic and will feature a professionally printed design. This present makes for a truly unique and sentimental gift that will be treasured for years to come!
Product specifications: 
Premium acrylic 
Size with wooden base: 6.5" (165mm) height x 6.5" (165mm) width
Acrylic Depth: 0.1" (5mm)
Wooden base: 1.2" (30mm) height x 6.5" (165mm) width x 1.8" (45mm) depth
(Optional) Wooden base with colorful built-in LED lights
Sharp, detailed printed design 
Each order is lovingly packaged and ready to be cherished for a lifetime!
See what people are saying
about us