Godfathers hold a special place in our lives, embodying love, guidance, and unwavering support. They are the silent protectors, the trusted mentors who play a vital role in shaping our journeys. Their presence brings a sense of comfort and reassurance, like a beacon of strength in times of need. From baptisms to birthdays, holidays to significant milestones, there are countless reasons to celebrate and honor our beloved godfathers.
On Father's Day, we recognize the exceptional bond shared between a godfather and their godchild. It's a day to express gratitude for their unconditional love and guidance, just like a father figure. Birthdays are perfect occasions to honor their presence in our lives and acknowledge the role they play in shaping our growth. Christmas brings warmth and joy, and what better time to convey our appreciation for their unwavering support and the lasting memories they create?
Men's Vegan Leather Bracelet - Crafted with stainless steel and vegan leather, this exquisite bracelet showcases a robust magnetic clasp, ensuring your sentimental gift endures for a lifetime. Each piece comes in a complimentary soft touch box, ready for effortless gifting. Upgrade to the mahogany-style luxury box for an elevated presentation, complete with a dazzling LED spotlight.
Every order is thoughtfully packaged and shipped with care from the US. To add a special touch, each bracelet includes a sentimental message card that reads: "The Best GODFATHER In The Galaxy." It's the perfect choice for Star Wars fans who wield their lightsabers with pride.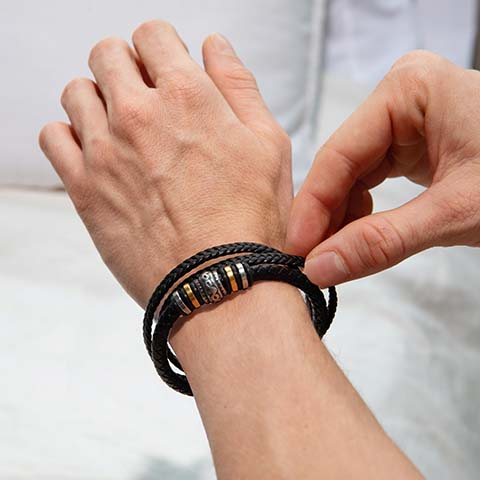 Are you looking for a gift as special as the man in your life? Then this Men's "Love You Forever" Bracelet is perfect! Engraved with a heartfelt message, it's a daily reminder of your love and appreciation.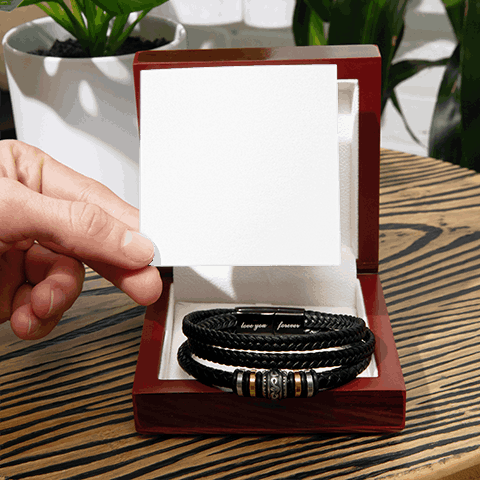 Composed of stainless steel and vegan leather, this handsome bracelet features a strong magnetic clasp, making your sentimental gift last a lifetime! Your piece is packaged in a complimentary soft touch box for easy gifting. Elevate your presentation by upgrading to the mahogany style luxury box, which features a brilliant LED spotlight.
Product specifications: 
Total length: 8.3" (21 cm)
Engraved "love you forever" sentiment
Braided vegan leather band
Stainless steel decorative beads
Stainless steel magnetic clasp with black finish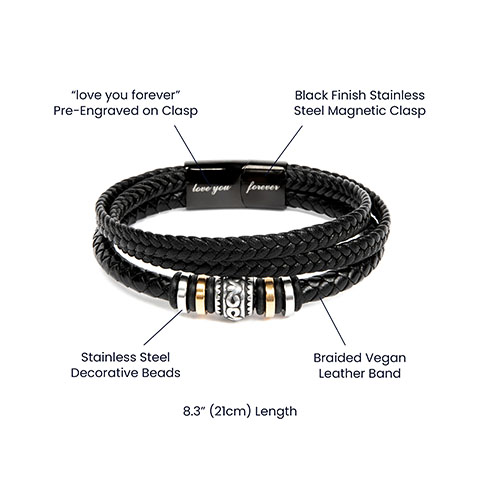 Each order is lovingly packaged and shipped with care!
See what people are saying
about us