Introducing our Memorial Bracelet For Men, a heartfelt and meaningful gift to express your condolences and provide comfort during difficult times. This bracelet is crafted with high-quality materials, including stainless steel and vegan leather, ensuring its durability and longevity. The strong magnetic clasp adds convenience and ease of use, allowing your loved one to cherish this sentimental piece for a lifetime.
The centerpiece of the bracelet is engraved with the phrase "Love You Forever," serving as a daily reminder of your everlasting love. The accompanying message card carries a heartfelt message:
"I'm sorry I can't be there today, but please know that I'm up in heaven watching over you as you open this gift, and up here, I have the best view! Wear this bracelet as a constant reminder that you are carrying my spirit, and I am always by your side, embracing you with a little hug from heaven. Until we meet again, Daddy, as the bracelet says 'Love You Forever.'"

The bracelet's total length is 8.3 inches (21 cm), providing a comfortable fit for most wrists. It features a braided vegan leather band, accented with stainless steel decorative beads, adding an elegant touch to the design. The stainless steel magnetic clasp with a black finish ensures a secure closure and adds a contemporary flair.

To enhance the gifting experience, your Memorial Bracelet For Men is packaged in a complimentary soft touch box. For an even more luxurious presentation, consider upgrading to the mahogany style luxury box, which features a brilliant LED spotlight.

By wearing this memorial bracelet, your loved one will carry your spirit with them and feel your loving presence always. It serves as a tangible reminder of your everlasting bond and offers comfort during times of grief and remembrance.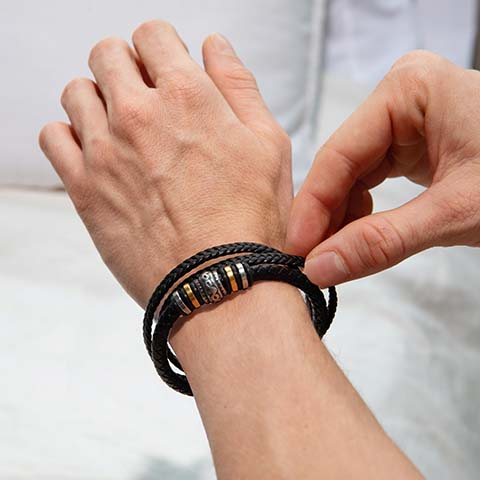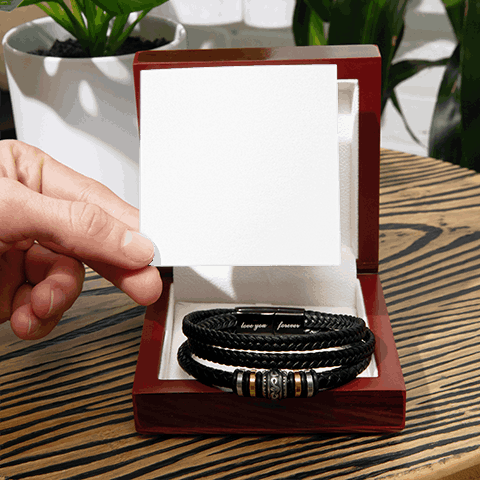 Product specifications: 
Total length: 8.3" (21 cm)
Engraved "love you forever" sentiment
Braided vegan leather band
Stainless steel decorative beads
Stainless steel magnetic clasp with black finish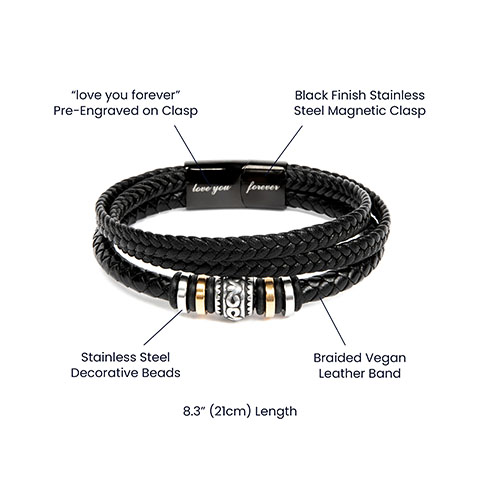 Each order is lovingly packaged and shipped with care!
See what people are saying
about us