A Timeless Expression of Love
Looking for the perfect gift to express your affection for your loved ones? The Men's Vegan Leather Bracelet is more than just a fashion accessory; it is a heartfelt gesture that captures the essence of your emotions.
Engraved with the endearing sentiment "love you forever," this bracelet becomes a powerful symbol of eternal love and connection. It serves as a constant reminder of the deep bond shared between two souls, making it an ideal gift for anniversaries, birthdays, or special occasions.
The sentimental message card included in each order adds a personal touch to your gift. With heartfelt words that read, "To My Daddy - Never Forget That I Love You. Our Hearts Are Connected Forever. No Matter How Much Time Passes I Will Always Be Your Little Girl," this bracelet becomes a cherished keepsake, treasured for a lifetime.
Captivating Your Style with the Men's Vegan Leather Bracelet
Are you searching for a stylish accessory that speaks volumes about your personality? Look no further than our Men's Vegan Leather Bracelet, a perfect blend of style and durability. Crafted with meticulous attention to detail, this bracelet is designed to complement your unique sense of fashion and withstand the test of time.
At the heart of this exquisite bracelet is the high-quality vegan leather band, meticulously braided to create a striking pattern that catches the eye. Not only does it add a touch of sophistication to your overall look, but it also ensures a comfortable and secure fit for your wrist.
Accentuating the band are the stainless steel decorative beads, carefully placed to create a sense of balance and add a touch of refinement. These beads not only enhance the aesthetic appeal of the bracelet but also serve as a symbol of strength and resilience.
One of the standout features of our Men's Vegan Leather Bracelet is the stainless steel magnetic clasp with a sleek black finish. With its strong magnetic force, the clasp ensures your bracelet stays securely fastened throughout the day. No more worries about accidental removal or inconvenient clasps - this bracelet effortlessly combines convenience and style.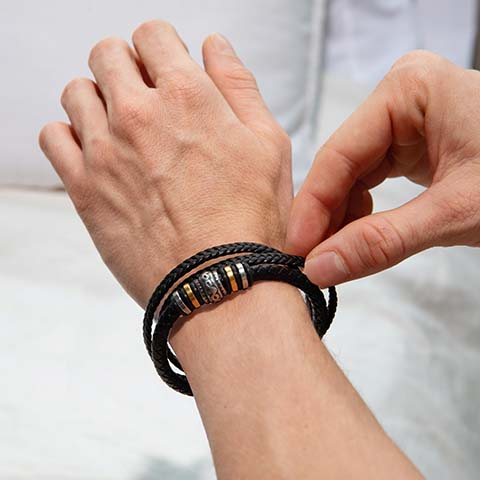 Make a lasting impression from the moment your loved one receives their gift. Our Men's Vegan Leather Bracelet comes beautifully packaged in a complimentary soft-touch box, adding a touch of elegance and sophistication.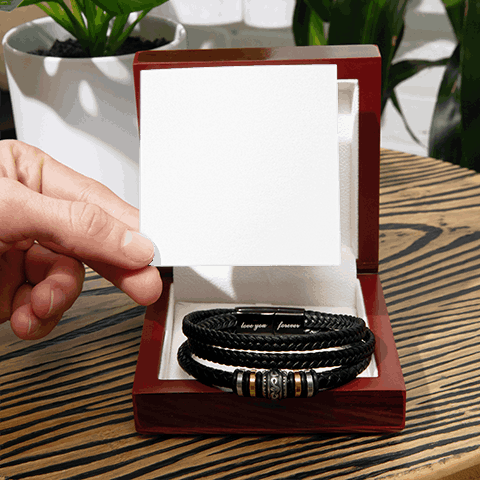 But why stop there? Elevate your gifting experience to new heights by upgrading to our mahogany-style luxury box. This exquisite box features a brilliant LED spotlight that illuminates the bracelet, creating a mesmerizing display that enhances the overall presentation. Unveil the bracelet in style and watch as their eyes light up with delight.
Product specifications: 
Total length: 8.3" (21 cm)
Engraved "love you forever" sentiment
Braided vegan leather band
Stainless steel decorative beads
Stainless steel magnetic clasp with black finish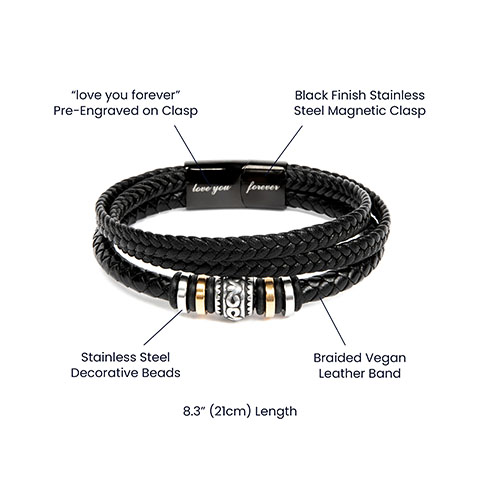 Each order is lovingly packaged and shipped with care!
See what people are saying
about us