Capture the essence of heartfelt remembrance with our personalized "I Thought Of You" Photo Square Acrylic Plaque from Always Essential Gifts. This exquisite plaque is a touching way to honor cherished memories and express your deepest sentiments. Crafted with premium acrylic, the plaque showcases a semi-transparent custom photo provided by the customer, beautifully complemented by a frame adorned with a cardinal—a symbol of love and connection.
The plaque bears a profound message that speaks volumes: "You crossed my mind today, as you often do. You were in my thoughts yesterday and every day before that too. In quiet solace, your name escapes my lips. Your memory is a keepsake, a cherished treasure I'll never let go. As God embraces you in heavenly arms, I hold you close, eternally engraved within my heart and soul."
With its sharp and detailed printed design, this square acrylic plaque is an exceptional addition to any decor. The wooden base provides stability and elegance, featuring dimensions of 6.5" (165mm) height and width. The plaque itself has a 0.1" (5mm) depth, exuding a modern and sleek aesthetic. Optionally, you can choose the wooden base with built-in LED lights for a captivating display that adds a touch of enchantment to your keepsake.

Honor your loved ones and treasure their memory with our personalized "I Thought Of You" Photo Square Acrylic Plaque—a timeless gift that radiates love, remembrance, and eternal connection.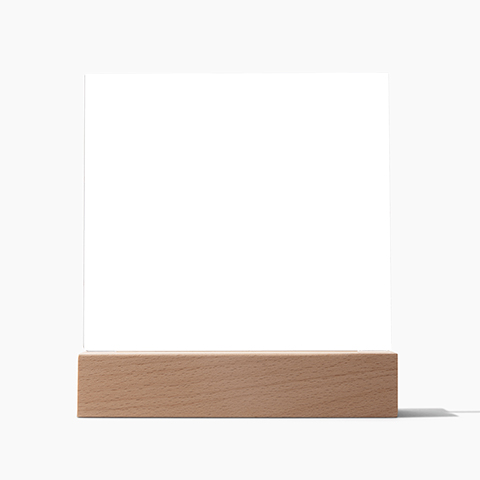 Your plaque will be made from high quality acrylic and will feature a professionally printed design. This present makes for a truly unique and sentimental gift that will be treasured for years to come!
Product specifications: 
Premium acrylic 
Size with wooden base: 6.5" (165mm) height x 6.5" (165mm) width
Acrylic Depth: 0.1" (5mm)
Wooden base: 1.2" (30mm) height x 6.5" (165mm) width x 1.8" (45mm) depth
(Optional) Wooden base with colorful built-in LED lights
Sharp, detailed printed design 
Each order is lovingly packaged and ready to be cherished for a lifetime!
See what people are saying
about us