Celebrate the Home Runs with Your Dad
Celebrate the extraordinary bond between you and your dad with our heartfelt Personalized Photo Dad Acrylic Plaque. This versatile gift is perfect for honoring your dad on Father's Day, birthdays, or any special occasion. Show him how much he means to you and express your gratitude for the countless ways he has taught, guided, and inspired you. Let your dad know that he's a home run in your life.
A Home Run of Love and Appreciation
"Dad - God hit a home run when he made you my dad." These powerful words reflect the depth of your love and appreciation for the role your dad plays in your life. The message on the plaque acknowledges his impact in shaping your character and teaching you essential skills like catching, throwing, and hitting. It's a heartfelt thank you for the invaluable lessons he has imparted and the time you've spent together.
A Timeless Keepsake of Precious Moments
The personalized photo on the acrylic plaque serves as a visual reminder of the cherished memories you've created with your dad. From playing catch in the backyard to shared victories on the field, this plaque encapsulates the essence of your bond. The crystal-clear premium acrylic and sleek wooden base elevate the display, making it a captivating centerpiece that celebrates your love and admiration for your dad.
Your Dad, Your MVP
The customized plaque, featuring your personalized name and photo, is a unique tribute to the man who holds a special place in your heart. Each time your dad gazes at this thoughtful gift, he'll be reminded of the love and admiration you have for him. It's a heartfelt expression that goes beyond words, honoring the irreplaceable role he plays in your life.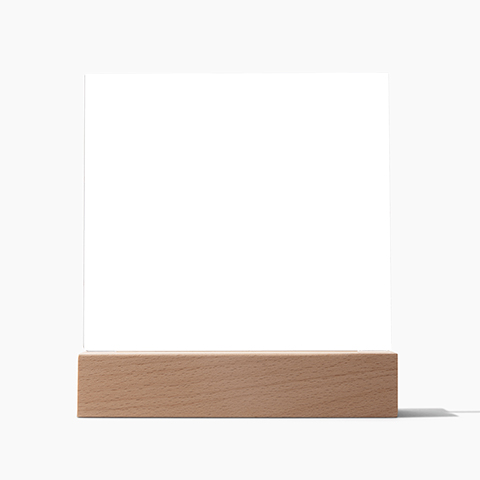 Product specifications: 
Premium acrylic 
Size with wooden base: 6.5" (165mm) height x 6.5" (165mm) width
Acrylic Depth: 0.1" (5mm)
Wooden base: 1.2" (30mm) height x 6.5" (165mm) width x 1.8" (45mm) depth
(Optional) Wooden base with colorful built-in LED lights
Sharp, detailed printed design 
Each order is lovingly packaged and ready to be cherished for a lifetime!
See what people are saying
about us