Enchanting Love Knot Necklace: A Symbol of Eternal Love
Captivating Knot Design: A Testament to Forever Love
Discover a timeless emblem of eternal love with our exquisite Love Knot Necklace. Crafted with precision and passion, this elegant piece features a captivating knot design that symbolizes the unbreakable bond between two hearts. Each element of the knot represents a unique facet of your relationship, intricately woven together just like the love you share. Express your devotion and commitment with a gift that speaks volumes beyond words.
Mesmerizing 6mm Round Cut CZ Stone: A Sparkling Connection

At the heart of this stunning necklace lies a mesmerizing 6mm round cut cubic zirconia stone, radiating brilliance and capturing the essence of your affection. The carefully chosen stone is a reflection of the sparkle in her eyes and the joy she brings to your life. Its exquisite beauty will leave her breathless and serve as a constant reminder of the special moments you've shared.
Elegant Craftsmanship in 14k White Gold or 18k Yellow Gold

Celebrate your unique love story with a touch of elegance. Our Love Knot Necklace is available in two luxurious options: 14k white gold over stainless steel or 18k yellow gold over stainless steel. The lustrous finish adds a touch of sophistication to any outfit, making it a versatile piece that she can cherish for a lifetime. Elevate your gift-giving experience by choosing the perfect metal that resonates with your journey together.
Unveiling Your Love: A Gift Beyond Measure

Adjustable Chain Length: A Perfect Fit for Her
Gift her not just a necklace, but a symbol of your unwavering commitment that fits perfectly in her life. The Love Knot Necklace features an adjustable chain length, ranging from 18" to 22". This ensures that it gracefully rests near her heart, accentuating her neckline and allowing her to showcase its elegance effortlessly.
Thoughtful Packaging: A Treasure Within
Your love deserves to be presented in the most exquisite manner. Our Love Knot Necklace comes nestled in a complimentary soft touch box, ready for heartfelt gifting. Take it a step further by opting for the mahogany-style luxury box, complete with a brilliant LED spotlight. Let the unveiling of this precious gift be as unforgettable as the moments you've shared.
A Promise of Forever: Capture Your Wedding Day
Seize the opportunity to make your wedding day even more memorable. The Love Knot Necklace serves as an enchanting wedding day gift for the bride from the groom. As she walks down the aisle, let her wear a piece that encapsulates the promise of forever. This necklace will not only enhance her bridal attire but also become a cherished heirloom that embodies your love story through generations.
Elevate Your Love Story with Our Love Knot Necklace
Embrace Eternal Love: Your Symbol of Everlasting Devotion
Discover the perfect blend of style and sentiment with our Love Knot Necklace. This piece goes beyond being a mere accessory – it is a representation of the eternal bond you share. With its exquisite craftsmanship, dazzling stone, and adjustable chain, this necklace becomes a tangible reminder of your heartfelt promise. Elevate your love story and create a moment that will be etched in your memories forever.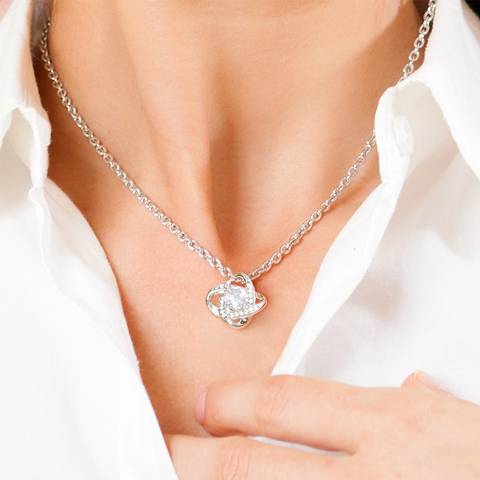 Imagine her reaction receiving this beautiful Love Knot Necklace. Representing an unbreakable bond between two souls, this piece features a beautiful pendant embellished with premium cubic zirconia crystals. Surprise your loved one with this gorgeous gift today!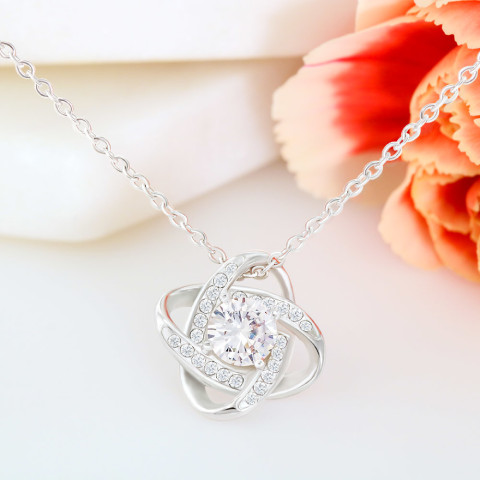 14k white gold over stainless steel or 18k yellow gold over stainless steel
6mm round cut cubic zirconia stone
Pendant dimensions: 0.6" (15.7mm) height / 0.23" (6mm) width
Adjustable chain length: 18" - 22" (45.72cm - 55.88cm)
Lobster clasp attachment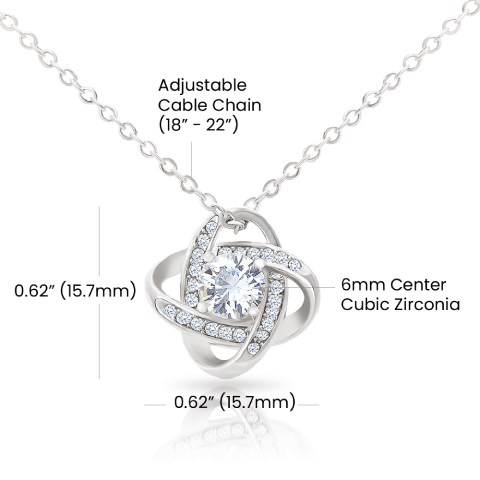 Your piece is lovingly packaged in a complimentary soft touch box for easy gifting. Elevate your presentation by upgrading to the mahogany style luxury box, which features a brilliant LED spotlight.
See what people are saying
about us