Celebrate the Unbreakable Bond with Your Bonus Dad
A father is not defined by biology alone, but by the love, care, and support he gives. Celebrate the extraordinary relationship you share with your bonus dad with our heartfelt Personalized Photo To My Bonus Dad Acrylic Plaque. This Father's Day, show him how much he means to you and honor the unbreakable bond that goes beyond DNA.
A Special Tribute to Your Bonus Dad
"You didn't give me the gift of life, but you sure made my life better." These powerful words grace the message card that accompanies the personalized photo on our acrylic plaque. The transparency of the dimmed photo symbolizes the blending of two families, coming together to create something beautiful and meaningful. It's a heartfelt reminder that family is defined by the heart, not solely by blood.
A Timeless Keepsake of Gratitude
Express your gratitude to the dad who stepped into your life and became a pillar of love and support. Our crystal-clear premium acrylic plaque showcases your personalized photo and message, becoming a cherished memento that represents the eternal bond you share. Its contemporary design, complemented by a sleek wooden base, ensures that this heartfelt gift takes center stage in any room, reminding your bonus dad of the profound impact he has had on your life.
Illuminate the Love with an Enchanting Upgrade
Upgrade the presentation of your personalized plaque with our LED wooden base. The colorful built-in LED lights create a captivating ambiance, symbolizing the warmth and radiance of the love you share. Watch as the acrylic plaque glows from beneath, mesmerizing anyone who sees it and making it an instant conversation starter. This enhancement adds an enchanting touch, perfectly reflecting the magical connection between you and your bonus dad.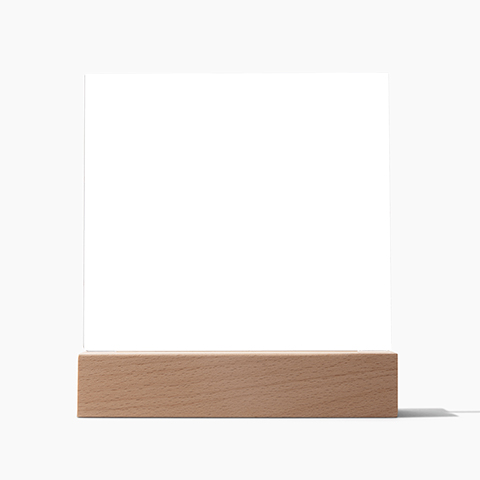 Product specifications: 
Premium acrylic 
Size with wooden base: 6.5" (165mm) height x 6.5" (165mm) width
Acrylic Depth: 0.1" (5mm)
Wooden base: 1.2" (30mm) height x 6.5" (165mm) width x 1.8" (45mm) depth
(Optional) Wooden base with colorful built-in LED lights
Sharp, detailed printed design 
Each order is lovingly packaged and ready to be cherished for a lifetime!
See what people are saying
about us